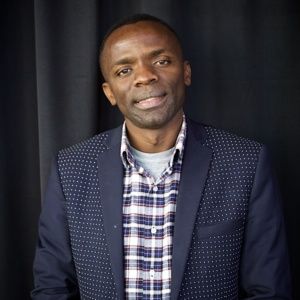 Billiance Chondwe
Executive Director - Balladeers Global Missions Network International
Billiance Chondwe now serves as President of Together Africa Without Orphans (TAWO) and Executive Director of Balladeers Global Missions Network International. The TAWO alliance unites orphan-serving organizations and churches in Africa to ignite passion and build excellence for Christ-honoring orphan care. The goal is ultimately to fullfil a dream of Africa Without Orphans. Billiance founded Orphan Sunday; a program that engages the church to respond to orphan crisis. He is married to Catherine with four children and is currently residing in Pretoria, South Africa.
---
WWO Interview with Billiance
As a participant in the upcoming Global Forum for a World Without Orphans to be held on February 11-14, 2016 in Chiang Mai, Thailand, Ronnie Mosley interviewed Billiance about his heart for orphan ministry.
WWO: How did God open your eyes and heart for the orphan?

Billiance: When I was the pastor of a church in Zambia (Kalingalinga Township), we had around 70 members, 48 were HIV positive, each week there were funerals amongst our members. It was not uncommon for a parent to die and leave behind children who were left to take care of themselves. Many times the head of the household was the oldest sibling who was only 12 or 13 years of age. Seeing this reality turned my heart in a powerful way for the orphan.

WWO: Tell us three things that every Christian leader should know when it comes to caring for orphans?

Billiance: As Christian leaders working in orphan ministry, we need to be involved because we are called by God, not just for humanitarian purposes or because we feel sorry for them but because helping orphans reflects the heart of God. Gods heart beats for the orphan and ours should as well. God promises his blessing upon the church when it serves the orphan not just in words but in deeds.

Sustainability should always be the goal. When we help the poor, we should always be asking ourselves, how do we empower them, how do we make them self sustained. Our work with the poor should always have a end goal of bringing the ones that we help into a place of taking care of themselves and ultimately looking to Christ for all things.

Every Christian leader should always be assessing the spiritual condition of those that we endeavor to help. It is easy to see the physical need but there spiritual condition needs to be of equal concern. We should always be asking ourselves, where will they spend eternity, where will they be after all this is done.

WWO: What is your message to the global church in one or two sentences?

Billiance: God is moving like never before around the world and that as Christians we need to unite and work together. As Christians, we need to look for what unites us, not divides us. We can accomplish so much more for Christ if we work together.
WWO: What excites you most about being part of the Global Forum for a World Without Orphans?

Billiance: The networking, strategizing, coming up with practical ideas with people from all over the world who will all unite over our common goal of having a world without orphans.