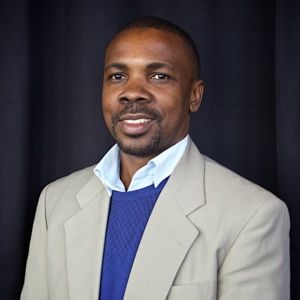 Daniel Kaggwa
Pastor, Sign of the Dove Church - Kampala, Uganda
Daniel Kaggwa is a pastor of Sign of the Dove Church in Kampala, Uganda where he grew up. He and his wife, Erika, also serve through the ministry In His Embrace Transitional Homes. Throughout their entire married life Daniel and Erika have filled their home with children who have needed a place to grow and belong while among family. A few years ago Pastor Daniel's church had 15 orphans in a group home when hel began preaching a sermon series on God's adoption of His followers into the family of God. Pastor Daniel was so struck by the biblical basis for adoption he took a huge risk. After several weeks of studying and preaching through the scriptures he told his congregation there were 15 orphans from their church who needed to feel a part of God's family. He asked families who felt called by God to foster or adopt a child to take them into their homes. With support and supervision from professional caregivers at the church, all those children are thriving and have successfully finished school. The Kaggwa's are helping orphans find local families and have found a healthy alternative to the conventional model of starting an orphanage in Africa.
WWO Interview with Daniel Kaggwa
As a participant in the upcoming Global Forum for a World Without Orphans to be held on February 11-14, 2016 in Chiang Mai, Thailand,
Ronnie Mosley
interviewed Daniel about his heart for orphan ministry.
WWO: How did God open your eyes and heart for the orphan?
Daniel: It was from my own childhood experiences. My father separated from my mother when I was seven years old. From seven to eleven years of age, I lived with my grandmama who was very poor. We literally had nothing—no bed to sleep on and no blanket to sleep under. My grandmama would wait for me to go to sleep and then she would remove her dress and drape it over me during the night. Before I woke she would remove the dress from me and put it back on for the day. We had nothing.
At twelve, I became a man. My grandmama could no longer afford to care for me; so, I was forced to live on my own. I had to pay my school fees, buy my food, and was responsible for everything myself. Growing up I had no recollection of my father paying for anything, not even clothes or shots. I would wake up early and work hard from 5:00 am till 7:30 am; then. I would clean up and go to school at 8:00 am. When school let out at 6:00 pm I would work again until 9:00 pm or 10:00 pm and repeat the next day. My work consisted of fetching water from the spring for neighbors or perhaps digging in their gardens. I did this work for pennies or perhaps for something to eat. I lived in a one room house that was perhaps 6' x 6'. This was my life.
After living this way for a couple of years, there was a point where hopelessness overwhelmed and I did not want to live anymore. Life was very, very hard and I was so depressed. I had made up my mind that I was going to take my life at school with a rope. The day came to execute my plan; so, I emptied what little I had from my house, I never went to class, and took the rope to school. I was able to identify a very good mango tree—where I was going to commit suicide at six p.m. after all the students has left school. I waited until after everyone had gone home for the day and I went to the tree where I prepared to carry out my plan. I had the rope wrapped around my neck; and, as I prepared to throw the other end of the rope over a branch, I heard a sound behind me. I never knew that God had put aside Someone, waiting for me—and that was Jesus Himself—waiting right under the mango tree. I came to commit suicide; however, God strategically placed a student named Richard there. Richard had not left yet, saw what I was trying to do, and rushed to stop me.
By God's grace, Richard came to my side and asked, "Daniel, what are you doing?" I explained my sadness and how that I did not want to live and had no place to go. Through Richard, I heard for the first time how God loved me, and that love changed my life. That day Richard led me to Jesus, his Heavenly Father, and then took me home with him and introduced me to his earthly father. Richard and his father went to a bedroom for a few minutes to talk and when they returned, Richard's father said that I could stay with them and that they would take me in. I could live there like one of his sons. I saw love for the first time! I was fostered into this family and I was a son in this new home. I had never been told that I could eat what I want and sleep where I wished. It was a new life for me and I had a family for the first time.
Only three months into this new life, my new father died. After experiencing love and acceptance, suddenly it was all gone again. My new family which consisted of six brothers were all separated to live with aunts and uncles and there was nowhere for me to go. Voices from within told me once again that I should commit suicide and I should take my life.
However, the spirit within me told me that I should walk to the city where my grandmama lived. I went there and she received me. As a Christian I wanted to go to church; but, she got angry and made me choose. If I stayed with her, there could be no church. She made me choose between worshiping God and staying with her.
I grew up alone and was responsible for myself. God protected me as I worked hard to take care of myself. Then when I was almost 18, my church sent me to Rwanda as a missionary to help during the genocide crisis. It was there that I would meet the girl that God wanted me to marry. One of the first things she told me was that we could not marry unless we took orphans into our house.
So, to answer your question, these life experiences created a passion from within me to be a father to the fatherless; to care for the orphan; and to do whatever I could to give children who have had no family a place to call home and to have a mother and a father.
---
WWO: Tell us three things that every Christian leader should know when it comes to caring for orphans?
Daniel:
They should read and obey James 1:27. It is all about restoring and strengthening ties to the community. This verse reminds the Church to look after orphans and widows and this ministry is to be done first in our own communities. It comes down to a Christian's obedience to God.
When caring for orphans we can look at five dimensions: Spiritual, mental, emotional, physical and social. Typically we look mainly at the physical aspect (clothing, food, and shelter) and we forget about the other four. We really need to address all five with spiritual being the most important.
The goal of all orphan care should be to get orphans into families and not into just orphanages or care facilities. The family is God's plan and within a family is where every child should be raised.
---
WWO: What excites you most about being part of the Global Forum for a World Without Orphans?
Daniel: God's plan for the Church and for all Christians is to care for orphans. By being a part of the Global Forum with a focused goal of "A World Without Orphans", I am serving and obeying Christ and that brings me much happiness.