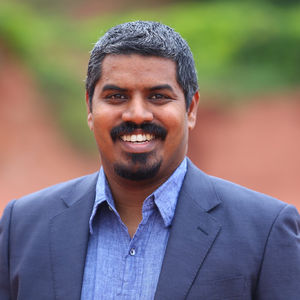 George Vincent Ebenezer
Chief Executive Officer, Beyond Barriers
As the Chief Executive Officer of Beyond Barriers, George is a recognized personality in the field of human engineering and development. He completed his Master Of Divinity from India with his thesis on 'Influences That Impact The Next Generation' . As an individual, he has traveled to nearly 200+ cities across the globe and been part of events in more than 24 countries over the past two decades. He has had the privilege of speaking into the lives of over half a million kids and teens in more than 250 different educational contexts. He has worked with some of the brightest minds in the training and developmental field, formulating programs on life skills and value education for schools, youth /children camps, life skill sessions, summer camps, and similar events. His desire is to see the next generation reached, rescued, rooted and released into their destiny through intentional discipleship.
George captures the attention of young audiences with his God-given ability of communicating with them at their level using talents like singing, acting, miming, and ventriloquism alongside an effective team at Beyond Barriers. He and his wife, Manju, are the proud parents Jedidiah, their biological son, and nine other adopted orphan children. Together they make a home called 'Santhosa Samsara', meaning 'One Family'. They are based in the city of Bangalore, India, which serves as the base for their orphan care ministry, missions effort, and kids/teens events.
An Interview with George Ebenezer
Highlights of George's Ministry
As a participant in the upcoming Global Forum for a World Without Orphans to be held on February 11-14, 2016 in Chiang Mai, Thailand,
Ronnie Mosley
interviewed George about his heart for orphan ministry.
WWO: When did God open your eyes and heart to the orphan?
GEORGE: I always loved orphans because I myself was an orphan in spirit. My father murdered my mom, my stepbrother, and my grandfather. I was left living on the streets, fighting with dogs and eating out of trash cans. I was sexually abused by several men all the years I was growing up, the first time when I was only three. I grew very afraid of adults. Always running away from home, I liked to find younger children because they were safe and accepted me. I went to a government orphanage, and I would tell the children stories and we would play games. My heart connected with those kids. That is how I began loving children at risk. No one stood with me when I was growing up, no one protected me, so then a heart formed in me that said, "I want to protect these kids". I don't think I would ever see an orphan the way I do today if I had not gone through what I went through.
WWO: What are three things every Christian leader should know about orphan care?
GEORGE: The lives of these kids have been very hard. The pain has created a vacuum, a big need. Their love tanks are empty. If we do not step in, the kids will not simply "somehow turn out fine". Though God's grace and favor is there, we have to be intentional. The need is very great.
The child's need is for a family- not just a roof and clothes and food, but intentional loving and mentoring. Institutions are not the full answer. Family is the answer.
Christian leaders must invest some of their own time and finances into orphan care. We commit so much to other things, such as church planting and missions; but, every Christian leader needs to emphasize care of orphan kids. If every person would use the place God has put him in, the task would be much easier.
WWO: What is your message for the global church?
GEORGE: At a time such as this, we have to focus more on depth. Depth is very important as we begin to work with the orphan. Today we see things grow a mile wide and an inch deep. I would ask the global church to focus on the process, focus on what the children are going through and get involved in their lives rather than just getting caught up in projects. Be involved in the person and their process. Jesus focused on the person. We get too caught up in projects and programs.
WWO: What are you looking forward to about the global forum?
GEORGE: This forum is the platform that the Lord has given us to get this message across to so many countries. It is a place where everyone can be activated and be connected to each other. If everyone at the forum would receive this message very seriously, the world will be impacted. Everyone has their own corners God is working in, and the impact will be global.
WWO: What are your hopes for the global orphan care movement?
GEORGE: I pray that in every country there would be a country-without-orphan movement, not pushed by leadership but rather that the common people would catch the vision and go and start things. Each country has its own unique challenges. If the people involved can address those needs on a local and national level we will experience great progress.
WWO: Why do you think the church is not doing more for the orphan?
GEORGE: Simply, orphan care is not prioritized. Many places might have a project, but it's not a main priority. It is temporary help, but rarely is there a priority to see kids taken off the streets.
WWO: What is the church not doing that it could do?
GEORGE: I want to see the pastors of our churches using every pulpit to challenge the members of the church, especially and intentionally challenging the church to adoption. We need the church as a whole involved in the orphan care movement. That would be one of the most amazing things that could happen.
---
HIGHLIGHTS OF GEORGE'S MINISTRY
A 'Compassion child' who grew up to be a voice for orphans globally. Featured in a news article about his connection with Mingo Valley Christian School, OK (the school that sponsored him as a child through Compassion International) published in the Washington Post, Ohio Post, Oklahoma Daily and New York Times (2013)
Worked with over half a million teens and kids and trained over 60,000 teachers and parents globally over two decades.
Invited by the United Nations to work with children affected by Tsunami in Srilanka (2005)
Invited to be an adjunct panelist as part of Dr. Ravi Zacharias International Ministries (RZIM) for Teen Apologetics in Hyderabad, India.(2013/ 2014) and also speak at a master trainers conference in Lebanon (2011) for the Christian Missionary Alliance as part of the RZIM team
Invited to be a keynote speaker at commencements for various international schools
Worked as a 'House Parent' and a 'Chaplain' for different residential hostels and schools. Traveled to the remote parts of North-East India and helped in establishing primary schools (1994 - 1998)
Worked as 'Director for Children and Teens Ministry' for 6 countries, setting up and establishing Sunday Schools and training Sunday School teachers and local pastors. (1998 -2006)
Been part of Global Orphan Care events in Indonesia, Thailand and United States of America (/2012/2013/2014)
Hosted seminars for teachers and trainers working with teens and adolescents in Ethiopia and Rwanda (2012/2013)
Invited to speak at the Willow Creek Church in Chicago (for CAFO) at the conference organized by Christian Alliance For Orphans (2014)
Invited to speak at a shelter facility for foster kids run by the county in Oklahoma State (2014)
Addressed students in the public schools and a few Christian Schools in United States of America (2014/2015)