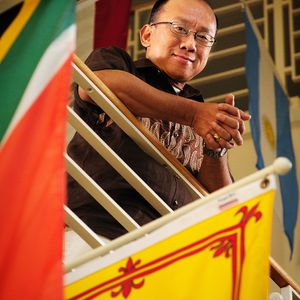 Jesus Curabo
National Facilitator for the 4/14 Window Global Movement Philippines
As a young man, Jess worked at the Philippine Refugee Processing Center in Morong, Bataan, Philippines - coaching, guiding and tutoring refugee children and adolescents from Vietnam, Laos and Cambodia to prepare them for their transition to schools in their relocation countries.
Jess has served with Awana International for close to 25 years as :
National Director - Philippines
Master Trainer
Global Senior Trainer
Regional Ministry Director -Southeast Asia
Global Advocacy Adviser
He has extensive experience in contextualizing resources, programs and activities for children and youth. He participated in the creation, design and development of appropriate training modules for trainers, teachers and trainers of teachers of children and youth. He pioneered the delivery of field training resources and implemented training support activities for missionaries, staff workers, volunteers through the following training events and conferences:
1) Enrichment and Development Training for Missionaries (Malaysia, Singapore, Australia, Thailand)
2) Ministry Team Training (UAE, Bangladesh, Hungary and Brazil)
3) Missionary Candidate Schools (India, Singapore, UAE, Indonesia, Philippines, Taiwan)
4) Train the Trainer Conferences (Philippines, Vietnam, Myanmar)
5) Discipleship Ministry Partner Development Training (USA, Philippines, Taiwan, Indonesia)
6) Leadership Training Conferences (USA, UAE, Japan, Singapore, Hong Kong)
7) Summer Leadership and Youth Camps ( USA, Canada)
He has been working closely with local church leaders and pastors to initiate and implement train-the-trainer programs, equipping events and mentoring activities for children and youth.
He has been involved in resolving Youth ministry issues and challenges arising from sensitive situations involving language and culture especially in restricted countries.
He has contributed to and facilitated discipleship events and activities for children, teenagers and teachers/trainers of children and teenagers in a regional and global context.
He has been a speaker and resource person at forums and consultations to advocate for prioritization of children and youth ministry in the local church.
He continues to mentor youth leaders, workers and other stakeholders in multicultural and cross-cultural settings and environments.
Jess currently serves as the National Facilitator for the 4/14 Window Global Movement Philippines.
He has been a speaker and presentor at 4/14 Window Global Movement Conferences in the Philippines, Jordan, Mongolia, Japan and Cambodia.
He continues to contribute together with the Philippines leadership team to strengthen vision casting and improve messaging for the 4/14 Window Movement.
He stays closely engaged with ministry networks to raise awareness for the 4/14 Window Movement among local church networks and denominational partners, NGO's, Christian organizations and ministries.
He is now actively involved in building and strengthening the Nurturer movement as one of the strategic thrusts of 4/14 Window Philippines.