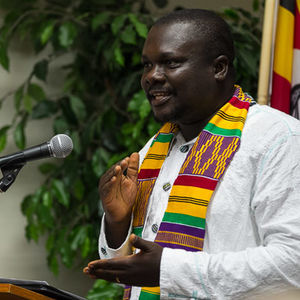 Kingsley Kwayisi
Accra, Ghana
As a child Kingsley Kwayisi was saved from abortion and placed in a family to flourish. His hope is to see every child find a family to flourish as God intended for them. His life goal is to use it for finishing the work assigned to him by the Lord Jesus Christ—the work of serving Christ and His Kingdom and promoting its purpose and plans in his generation.
Kingsley Kwayisi holds honors in Bachelor of Science in Material Science and Engineering from Kwame Nkrumah University of Science and Technology (KNUST), Ghana; a Diploma in Communication from University of Ghana, a Post Graduate Certificate in Marketing Management, Ghana Institute of Management and Public Administration (GIMPA), Ghana, Pastoral Leadership Certificate with Calvary Leadership Institute (CLI), Master of Divinity, Regent University, Ghana , Billy Graham Scholar for Global Leadership, Master of Art in Leadership and Evangelism, Wheaton College. USA
Kinsley serves as a Marketing and Project Manager in Corporate Ghana for over five years. He also worked on staff for Ghana Fellowship of Evangelical Students (GHAFES), a member of IFES. Young Adult Pastor, Calvary Baptist Church Accra, Ghana.
He is a Certified Leadership Coach with John Maxwell Leadership Centre and serves as a volunteer for the Scripture Union Ghana, Bible Society of Ghana and Intervarsity, USA. Short Term Missionary, to Cote D' Ivoire, Liberia, Gambia, and the Midwest, USA.
He is a conference and inspirational speaker for emerging leaders across West Africa and Midwest America.
Kingsley is married to Dr. Afua Kwayisi and gifted with a daughter, Awuradeama Kwayisi.