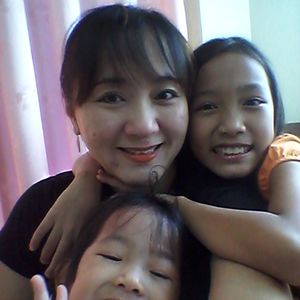 Passorn Sriprayoonpaisarn (Apple)
Passorn Sriprayoonpaisarn has been the pastor of a church called Church of Power for five years and she has worked at Home of the Swallow as the Project Director for seven years.
She has two beautiful daughters who are 4 and 9-years-old. Before working at HOS, she worked with an NGO for four years that helped street children who use drugs. She brought many children to Christ as she would often tell them about God and share the Gospel with them. However, the director of the home was not a Christian and was against Apple sharing the Gospel; so, Apple then went to work with an orphanage for HIV children for 4 years, before God called her to Home of the Swallow. She has a big heart to empower women to keep their children and be good mothers as she has seen that it is the best way to help orphans.
How children are raised is so important and often determines the rest of their lives. She believes that God established families to be full of love and care so that children can have a good foundation for their future. With many people having broken families, it makes the children suffer and causes many problems in their life. If they come to know Jesus, they can start their new lives in God's loving family. It is so important that God showed us that the church is His body and Apple believes that the church needs to obey God by being His body and sharing His love through action (Matthew 28:19-20). This inspired Church of Power to help keep families together based on God's desire and Apple's vision to keep children with their families. The members of the church have the same hearts and desires to help poor people have better their lives, so they have raise some funds to help single moms have their own jobs in order to feed their children. They have showed their God's love in many ways to help keep families and have offered things like counseling, training programs, job searches, etc. for couples and needy people in the community.
Apple found that the more people become stronger in their spiritual lives, the more their families are stronger as well. So, she has sacrificed herself to make disciples and empower people to trust God in everything. She wants to see more people of God who make an impact in the lives of those around them!