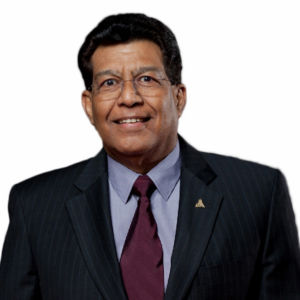 Prince Guneratnam
Chairman of Pentecostal World Fellowship
Rev. Dr Prince Guneratnam is the Senior Pastor of Calvary Church which meets at the Calvary Convention Centre in Kuala Lumpur, Malaysia.
He was elected the first Malaysian General Superintendent of the Assemblies of God (AG) of Malaysia in 1974. The AG Malaysia constituency grew from about 2,500 to 48,000 during his tenure of 26 years as General Superintendent. In 2006, he was honoured with Emeritus status as the General Superintendent of the Assemblies of God of Malaysia.
He has served in various key leadership positions among the larger Christian body of the Evangelicals, Charismatics, and Pentecostals both nationally and internationally. He was Chairman of the National Evangelical Christian Fellowship of Malaysia for twelve years (1994-2006) and Chairman of the Christian Federation of Malaysia for four years (2001-2005). Currently, he is the Chairman of the Pentecostal World Fellowship, a Board member of Church Growth International, Member of the Global Christian Forum and a Cabinet member of Empowered21.
He has a strong pulpit ministry that extends far beyond the boundaries of his own church. A gifted evangelist and has led multitudes to Christ all over the world. He has founded, established and instituted a number of humanitarian ministries.
He received three honorary scholastic awards, "Doctor of Divinity" in 1980, "Doctor of Litterarium" in 1984, and "Doctor of Laws" in 2000. He was cited for leadership skills with Exceptional Leadership Award in 2008 and the Distinguished Global Leadership Award in 2012.
In recognition for his meritorious services, Dr Guneratnam was given national recognition by the King of Malaysia with two prestigious awards. In 1999, the "Panglima Jasa Negara" (Order of Distinguished Service) award which carries the title of "Datuk" and in 2008, the "Panglima Setia Mahkota" (Commander of the Order of Loyalty to the Crown) award, which carries the title of "Tan Sri".